What Does the Future Hold for Home Prices?
If you're looking to buy or sell a house, chances are you've heard talk about today's rising home prices. And while this increase in home values is great news for sellers, you may be wondering what the future holds. Will prices continue to rise with time, or should you expect them to fall?
To answer that question, let's first understand a few terms you may be hearing right now.
Appreciation is an increase in the value of an asset.
Depreciation is a decrease in the value of an asset.
Deceleration is when something happens at a slower pace.
It's important to note home prices have increased, or appreciated, for 114 straight months. To find out if that trend may continue, look to the experts. Pulsenomics surveyed over 100 economists, investment strategists, and housing market analysts asking for their five-year projections. In terms of what lies ahead, experts say the market may see some slight deceleration, but not depreciation.
Here's the forecast for the next few years: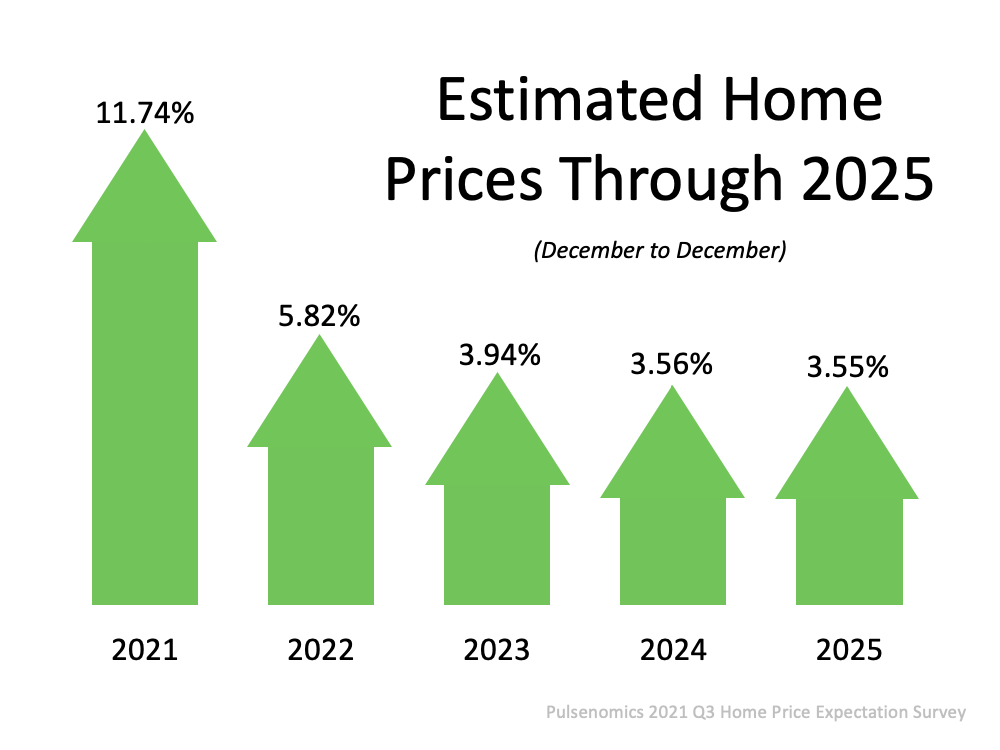 As the graph above shows, prices are expected to continue to rise, just not at the same pace we've seen over the last year. Over 100 experts agree, there is no expectation for price depreciation. As the arrows indicate, each number is an increase, which means prices will rise each year.
Bill McBride, author of the blog Calculated Risk, also expects deceleration, but not depreciation:
"My sense is the Case-Shiller National annual growth rate of 19.7% is probably close to a peak, and that year-over-year price increases will slow later this year."
Ivy Zelman of Zelman & Associates agrees, saying:
". . . home price appreciation is on the cusp of flipping to a decelerating trend."
A recent article from realtor.com indicates you should expect:
". . . annual price increases will slow to a more normal level, . . ."
What Does This Deceleration Mean for You?
What experts are projecting for the years ahead is more in line with the historical norm for appreciation. According to data from Black Knight, the average annual appreciation from 1995-2020 is 4.1%. As you can see from the chart above, the expert forecasts are closer to that pace, which means you should see appreciation at a level that's aligned with a more normal year.
If you're a buyer, don't expect a sudden or drastic drop in home prices – experts say it won't happen. Instead, think about your homeownership goals and consider purchasing a home before prices rise further.
If you're a seller, the continued home price appreciation is good news for the value of your house. Work with an agent to list your house for the right price based on market conditions.
Bottom Line
Experts expect price deceleration, not price depreciation over the coming years. Let's connect to talk through what's happening in the housing market today, where things are headed, and what it means for you.
Get your home's accurate value.
Instead of a robot and an algorithm, we use our experience and up-to-date MLS data*
We'll be in touch soon!
Our goal is to send your report over within 24-48 hours. In the meantime, hear from our past sellers about their experiences.
Andy sold it quickly after it sat with another agent!
Our home had been on the market for 4 months with a previous agent. My husband found Andy on a real estate group. Andy was very knowledgeable in my area. He suggested making a few minor updates and listed our house for $30k more than it was previously listed for. It took Andy about 2 weeks after listing it to get 2 offers on my house. We finally closed on our house after an offer of only $5K off of ask.
Verified by RateMyAgent
Now partnered with Corcoran
Andy Rose is now partnered with Corcoran Reverie in Florida.
Corcoran Reverie is known for their knowledge and experience with luxury beach properties along Florida's panhandle. Your beach home search starts here: www.YourEmeraldCoast.com