The Difference a Year Makes for Homeownership
Over the past year, mortgage rates have fallen more than a full percentage point, hitting a new historic low 15 times. This is a great driver for homeownership, as today's low rates provide consumers with some significant benefits. Here's a look at three of them.
1. Move-up or Downsize: One option is to consider moving into a new home, putting the equity you've likely gained in your current house toward a down payment on a new one that better meets your needs – something that's truly a perfect fit, especially if your lifestyle has changed this year.
2. Become a First-Time Homebuyer: There are many financial and non-financial benefits to owning a home, and the most important thing is to first decide when the time is right for you. You have to determine that on your own, but know that now is a great time to buy if you're considering it. Just take a look at the cost of renting vs. buying.
3. Refinance: If you already own a home, you may decide you're going to refinance. It's one way to lock in a lower monthly payment and save more over time. However, it also means paying upfront closing costs, too. If you want to take this route, you have to answer the question: Should I refinance my home?
Why 2020 Was a Great Year for Homeownership
Last year, the average mortgage rate was 3.93% (substantially higher than it is today). If you waited for a better time to make a move, market conditions have improved significantly. Today's low mortgage rates are a huge perk for buyers, so it's a great time to get more for your money and consider a new home.
The chart below shows how much you would save per month based on today's rates compared to what you would have paid if you purchased a home exactly one year ago, depending on how much you finance: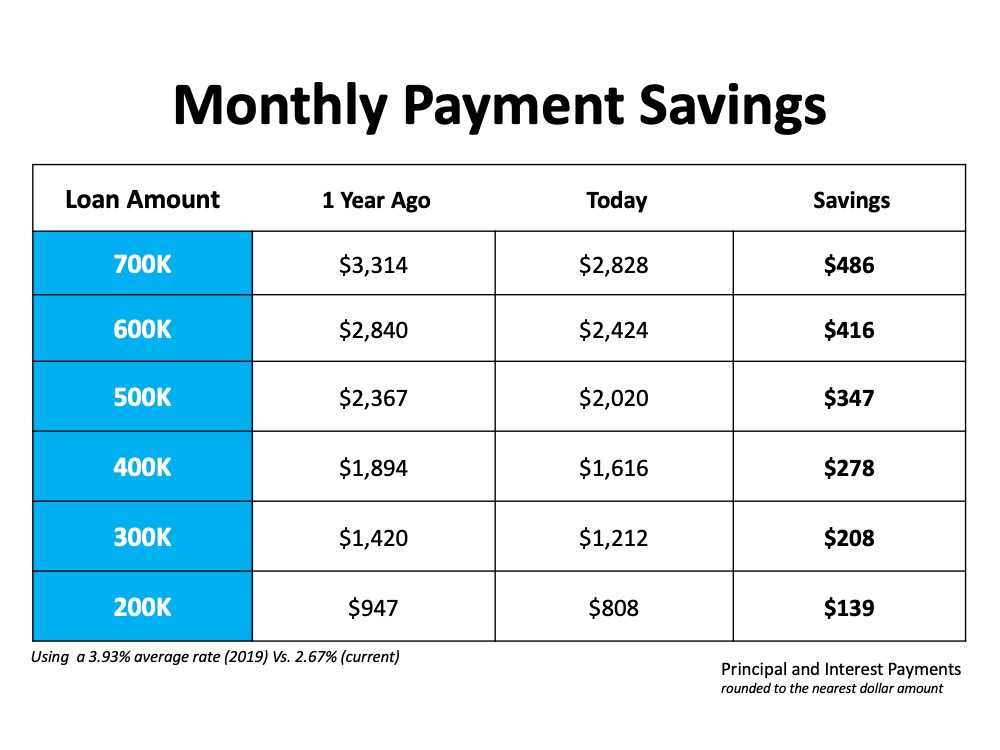 Bottom Line
If you've been waiting since last year to make your move into homeownership or to find a house that better meets your needs, today's low mortgage rates may be just what you need to get the process going. Let's connect today to discuss how you may benefit from the current rates.
Get your home's accurate value.
Instead of a robot and an algorithm, we use our experience and up-to-date MLS data*
I agree to be contacted by Real Estate Advisor via call, email, and text. To opt-out, you can reply 'STOP' at any time or click the unsubscribe link in the emails. Message and data rates may apply.
We'll be in touch soon!
Our goal is to send your report over within 24-48 hours. In the meantime, hear from our past sellers about their experiences.
Andy sold it quickly after it sat with another agent!
Our home had been on the market for 4 months with a previous agent. My husband found Andy on a real estate group. Andy was very knowledgeable in my area. He suggested making a few minor updates and listed our house for $30k more than it was previously listed for. It took Andy about 2 weeks after listing it to get 2 offers on my house. We finally closed on our house after an offer of only $5K off of ask.
Verified by RateMyAgent
Great People Don't Work Alone