Real Estate Is a Driving Force in the Economy
As the economy recovers from this year's health crisis, the housing market is playing a leading role in the turnaround. It's safe to say that what we call "home" is taking on a new meaning, causing many of us to consider buying or selling sooner rather than later. Housing, therefore, has thrived in an otherwise down year.
Today's high buyer demand combined with low housing inventory means we're seeing home prices appreciate at an above-average pace. This demand is being driven by those who want to take advantage of historically low mortgage rates. According to Freddie Mac:
"The record low mortgage rate environment is providing tangible support to the economy at a critical time, as housing continues to propel growth."
These factors are driving a positive impact on the economy as a whole. According to the National Association of Realtors (NAR), the real estate industry provided $3.7 billion dollars of economic impact to the country last year. To break it down, in 2019, the average newly constructed home contributed just over $88,000 per build to local economies. Across the country, real estate clearly makes a significant impact (See map below):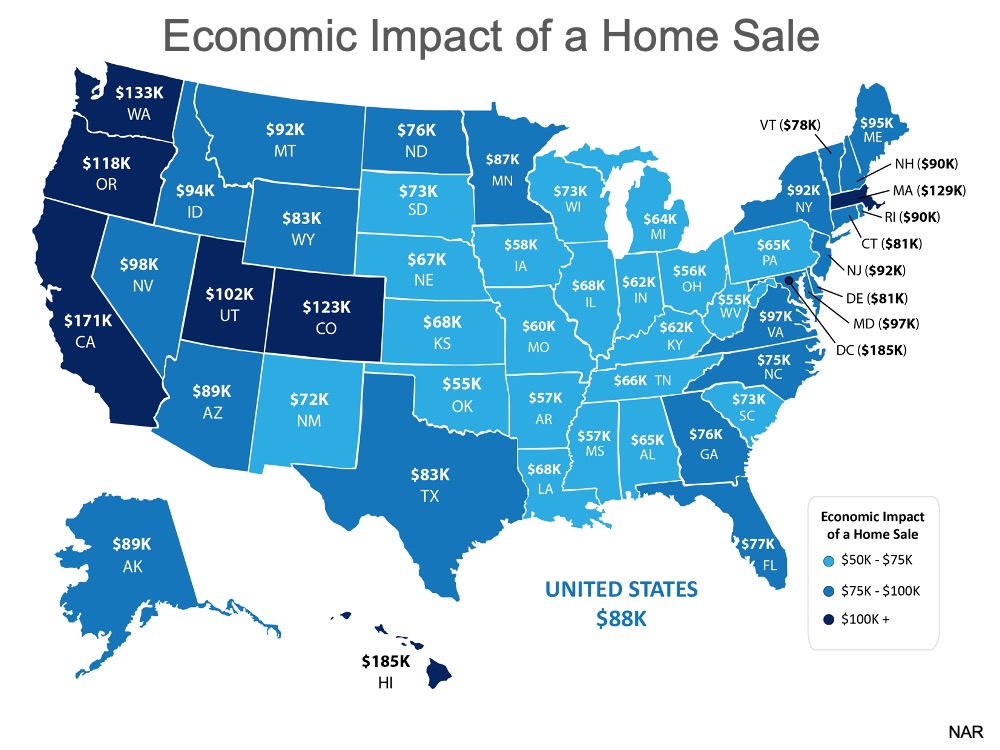 In addition, last week, the Bureau of Economic Analysis announced the U.S. Gross Domestic Product increased at an annual rate of 33.1% in the 3rd quarter of this year, after decreasing by 31.4% in the second quarter. There's no doubt the growing economy is being fueled in part by the soaring housing market. Experts forecast this housing growth to carry into 2021, continuing to make a big impact on the economy next year as well.
Bottom Line
The American Dream of homeownership has continued to thrive in the midst of this year's economic downturn, and "home" has taken on a new meaning for many of us during this time. Best of all, the housing market is making a significant impact as the economy recovers.
Get your home's accurate value.
Instead of a robot and an algorithm, we use our experience and up-to-date MLS data*
I agree to be contacted by Real Estate Advisor via call, email, and text. To opt-out, you can reply 'STOP' at any time or click the unsubscribe link in the emails. Message and data rates may apply.
We'll be in touch soon!
Our goal is to send your report over within 24-48 hours. In the meantime, hear from our past sellers about their experiences.
Andy sold it quickly after it sat with another agent!
Our home had been on the market for 4 months with a previous agent. My husband found Andy on a real estate group. Andy was very knowledgeable in my area. He suggested making a few minor updates and listed our house for $30k more than it was previously listed for. It took Andy about 2 weeks after listing it to get 2 offers on my house. We finally closed on our house after an offer of only $5K off of ask.
Verified by RateMyAgent