Key Advantages of Buying a Home Today
There's no doubt buying a home today is different than it was over the past couple of years, and the shift in the market has led to advantages for buyers today. Right now, there are specific reasons that make this housing market attractive for those who've thought about buying but have sidelined their search due to rising mortgage rates.
Buying a home in any market is a personal decision, and the best way to make that decision is to educate yourself on the facts, not following sensationalized headlines in the news today. The reality is, headlines do more to terrify people thinking about buying a home than they do to clarify what's actually going on with real estate.
Here are three reasons potential homebuyers should consider buying a home today.
1. More Homes Are for Sale Right Now
According to data from the National Association of Realtors (NAR), this year, the supply of homes for sale has grown significantly compared to where we started the year (see graph below):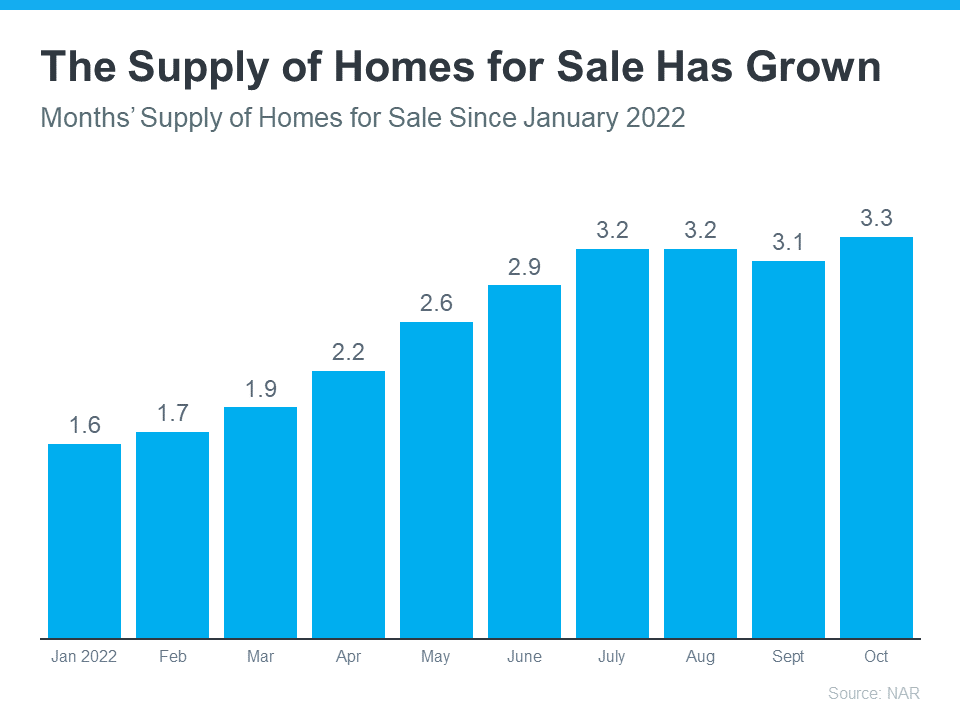 This growth has happened for two reasons: homeowners listing their homes for sale and homes staying on the market a bit longer as buyer demand has moderated in response to higher mortgage rates.
The good news for you is that more inventory means more homes to choose from. And when there are more homes on the market, you could also see less competition from other buyers because the peak frenzy of competing over the same home has eased too.
2. Home Prices Are Not Projected To Crash
Experts don't believe home prices will crash like they did in 2008. Instead, home prices will moderate at various levels depending on the local market and the factors, like supply and demand, at play in that area. That's why some experts are calling for slight appreciation and others are calling for slight depreciation (see graph below):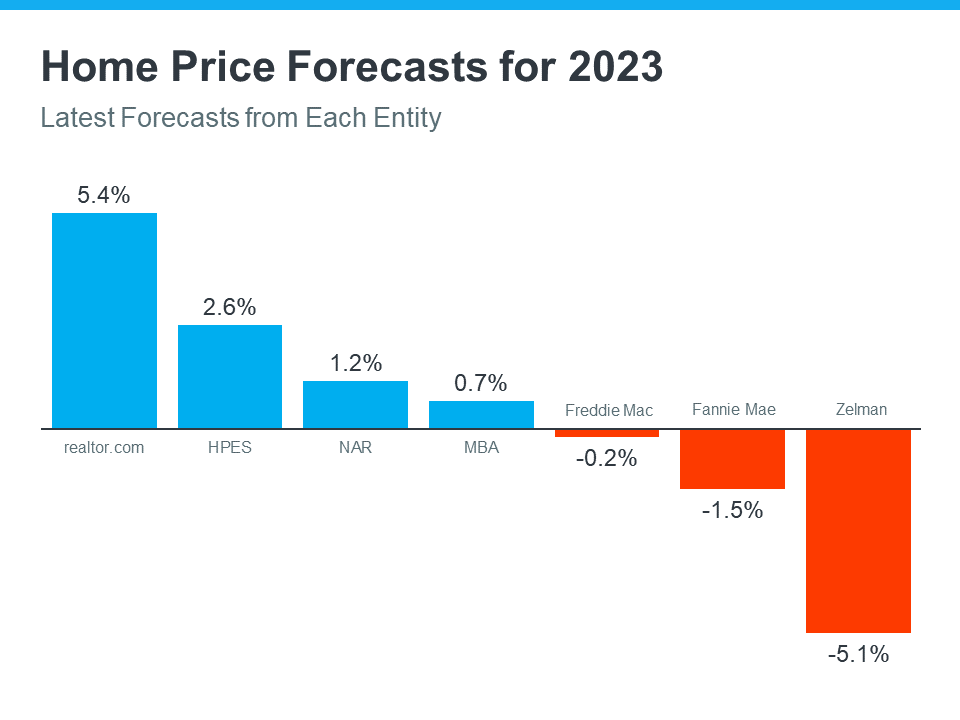 If you consider the big picture and average the expert forecasts for 2023 together, the expectation is for relatively flat or neutral price appreciation next year. So, if you're worried about buying a home because you're afraid home prices will crash like they did in 2008, rest assured that's not what expert projections tell us.
3. Mortgage Rates Have Risen, but They Will Come Down
While mortgage rates have risen dramatically this year, the rapid increases we've seen have moderated in recent weeks as early signs hint that inflation may be easing slightly. Where they'll go from here largely depends on what happens next with inflation. If inflation does truly begin to cool, mortgage rates may come down as a result.
When that happens, expect more buyers to jump back into the market. For you, that means you'll once again face more competition. Buying your house now before more buyers reenter the market could help you get one step ahead. As Lawrence Yun, Chief Economist for NAR, says:
"The upcoming months should see a return of buyers, as mortgage rates appear to have already peaked and have been coming down since mid-November."
When mortgage rates come down, those waiting on the sidelines will jump back in. Your advantage is getting in before they do.
Bottom Line
If you're thinking about buying a home, you should seriously consider the advantages today's market offers. Let's connect so you can make the dream of homeownership a reality.
Ready to Take the Next Step?
We want you to feel confident about your next steps as a homebuyer.
Click Here
He made the process of easy!! Would highly recommend him and Stephanie.
Andy did a great job!! Even after the buying and selling was done, he still followed up with us. He made the process of easy!! Would highly recommend him and Stephanie.
Cash in hand above asking within 10 days!
Our home was on the market for 8 months with multiple failures to close and numerous frivolous and expensive repairs being made before we were introduced to Andy. Within 10 days after we selected Andy as our realtor we had closed with cash in hand above our asking price. Select Andy as your realtor as soon as possible because his enthusiasm, prompt actions, professionalism and expertise will likely yield a transaction experience that is as pleasant and profitable as possible.
Will work hard for his clients!
Andy did a great job for us in the sale of our house. We had relocated out-of-state and needed to just 'unload' our house. Andy was able to find us a buyer and close the sale. He is a great agent who will work hard for his clients. If you need a realtor, I can't recommend Andy enough.
Are you a Veteran?
Let us help!
As a Veteran, we specialize in helping Veterans utilize their VA Home Loan Benefits.
Check out our Veteran's Page.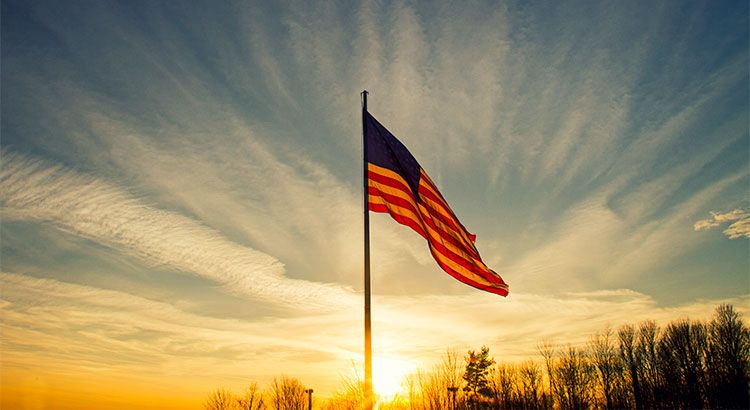 Now partnered with Corcoran
Andy Rose is now partnered with Corcoran Reverie in Florida.
Corcoran Reverie is known for their knowledge and experience with luxury beach properties along Florida's panhandle. Your beach home search starts here: www.YourEmeraldCoast.com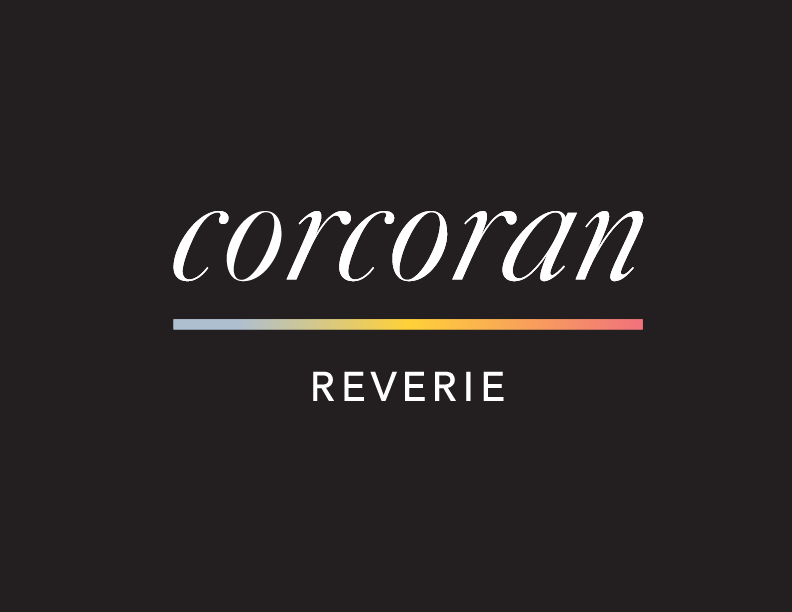 Get your home's accurate value.
Instead of a robot and an algorithm, we use our experience and up-to-date MLS data*
We'll be in touch soon!
Our goal is to send your report over within 24-48 hours. In the meantime, hear from our past sellers about their experiences.