Surprising Shift Favors Homeowners: Buyers Now Prefer Existing Homes
In April, the National Association of Home Builders (NAHB) posted an article, Home Buyers' Preferences Shift Towards New Construction, which reported:
"60% of people who were looking to buy a home in 2020 said they'd prefer new construction to an existing home."
However, it seems buyers are now shifting their preferences back to existing homes.
The latest Consumer Confidence Survey reveals the percentage of Americans planning to buy a home in the next six months is virtually the same as it was back in March. However, the percentage that plan to buy a newly constructed home is lower for that same period.
NAHB confirms this sentiment in their latest Housing Trends Report. The organization explains that existing homes are now the top preference among today's buyers. Here's a breakdown of those findings: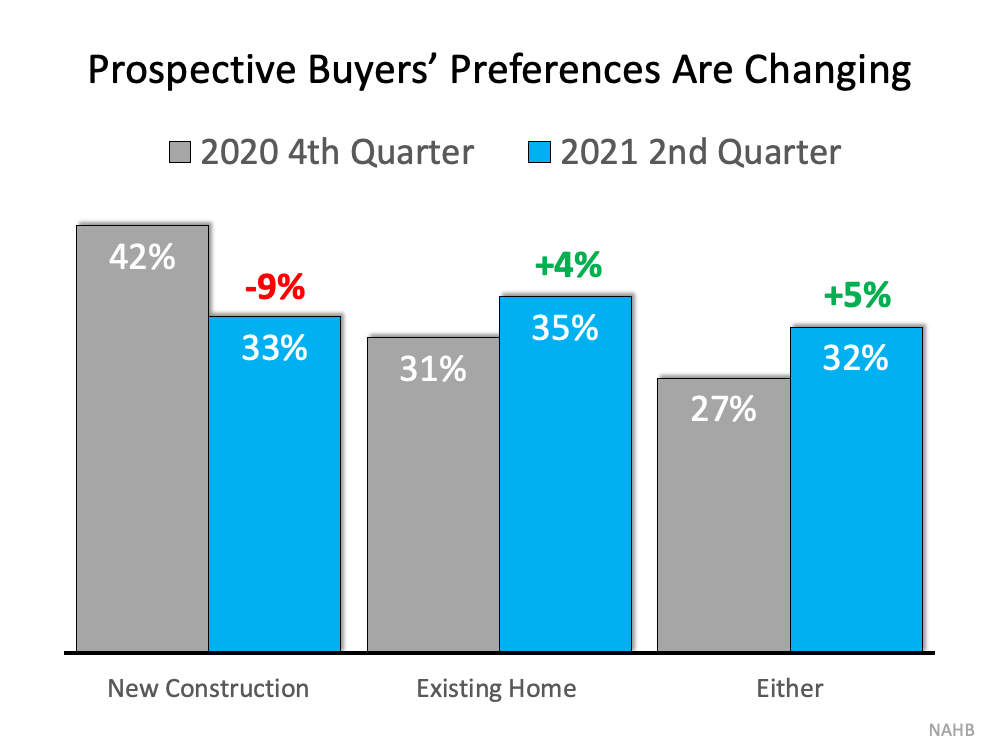 Why the shift?
There are several reasons why buyer preference is shifting. Here are two that impact purchasers looking to move in now:
The process may move faster. Builders may not be able to guarantee when the house will be complete and ready for move-in due to supply chain challenges with materials like lumber and appliances. If you buy an existing home, not only is it ready, it also likely has a refrigerator, range, and other necessary home appliances already.
There are no unexpected costs during the buying process. With the price of land, labor, and lumber being so volatile, many builders are including an escalation clause in the price negotiation to cover rising expenses. With an existing home, the final price you will pay is negotiated upfront.
Bottom Line
If you're a homeowner looking to sell, your house is more attractive to a greater number of buyers as compared to earlier in the year. This might be the time for us to connect to discuss the possibility.
Get your home's accurate value.
Instead of a robot and an algorithm, we use our experience and up-to-date MLS data*
I agree to be contacted by Real Estate Advisor via call, email, and text. To opt-out, you can reply 'STOP' at any time or click the unsubscribe link in the emails. Message and data rates may apply.
We'll be in touch soon!
Our goal is to send your report over within 24-48 hours. In the meantime, hear from our past sellers about their experiences.
Andy sold it quickly after it sat with another agent!
Our home had been on the market for 4 months with a previous agent. My husband found Andy on a real estate group. Andy was very knowledgeable in my area. He suggested making a few minor updates and listed our house for $30k more than it was previously listed for. It took Andy about 2 weeks after listing it to get 2 offers on my house. We finally closed on our house after an offer of only $5K off of ask.
Verified by RateMyAgent
Now partnered with Corcoran
Andy Rose is now partnered with Corcoran Reverie in Florida.
Corcoran Reverie is known for their knowledge and experience with luxury beach properties along Florida's panhandle. Your beach home search starts here: www.YourEmeraldCoast.com