The Worst Home Price Declines Are Behind Us
If you're following the news today, you may feel a bit unsure about what's happening with home prices and fear whether or not the worst is yet to come. That's because today's headlines are painting an unnecessarily negative picture. Contrary to those headlines, home prices aren't in a freefall. The latest data tells a very different and much more positive story. Local home price trends still vary by market, but here's what the national data tells us.
If we take a year-over-year view, home prices stayed positive – they just appreciated more slowly than they did at the peak of the pandemic. To get a more detailed picture of some of the trends in the market, we need to look at monthly data.
The monthly graphs below use recent reports from three sources to show that the worst home price declines are already behind us, and prices are on their way back up nationally.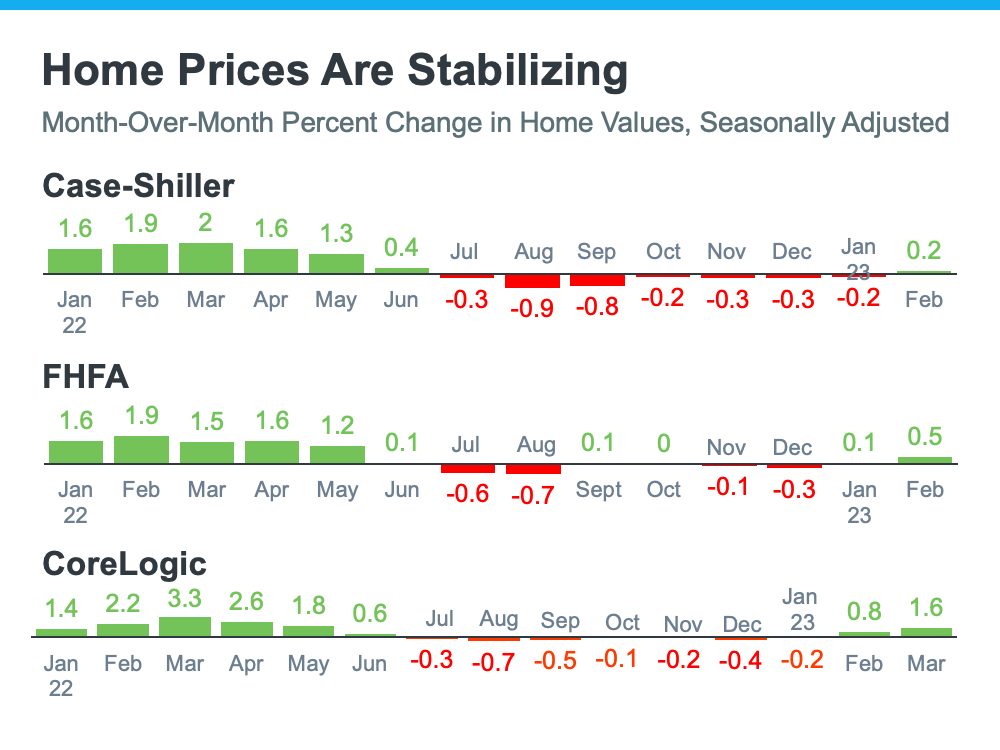 The story this more detailed monthly view tells us is that the last year has been a tale of two halves in the housing market. In the first half of 2022, home prices were climbing, and they peaked in June. Then, in July, home prices started to decline (shown in red in the graphs above). And by roughly August or September, the trend began to stabilize. As we look at the most recent data for the early part of 2023, these graphs also show a recent rebound in momentum with prices ticking back up. Monthly changes in home prices are gaining steam as we move into the busier spring season.
While one to two months doesn't make a trend, the fact that all three reports show prices have stabilized is an encouraging sign for the housing market. The month-over-month data conveys a clear, but early, consensus that a national shift is taking place today. In essence, home prices are starting to tick back up.
Andy Walden, Vice President of Enterprise Research at Black Knight, says this about home price trends:
"Just five months ago, prices were declining on a seasonally adjusted month-over-month basis in 92% of all major U.S. markets. Fast forward to March, and the situation has done a literal 180, with prices now rising in 92% of markets from February."
Selma Hepp, Chief Economist at CoreLogic, explains the limited supply of homes available for sale is contributing to this positive turn:
" . . . prices in many large metros appeared to have turned the corner, with the U.S. recording a second month of consecutive monthly gains. . . . The monthly rebound in home prices underscores the lack of inventory in this housing cycle."
Here's What This Means for You
Sellers: If you've been holding off on selling because you're worried about what was happening with home prices and how it would impact the value of your home, it may be time to jump back in and partner with an agent to list your house. You don't have to put your needs on hold any longer because the latest data shows a turn in your favor.

Buyers: If you've been waiting to buy because you didn't want to purchase something that would decrease in value, you now have the peace of mind things are looking up. Buying now lets you make your move before home prices climb more and gives you the chance to own an asset that typically grows in value over time.
If you put off your plans to move because you were worried about home prices falling, data shows the worst is already behind us and prices are actually rising nationally. Let's connect so you have an expert on the local market to explain what we're seeing with home prices in our area.
Get your home's accurate value.
Instead of a robot and an algorithm, we use our experience and up-to-date MLS data*
I agree to be contacted by Real Estate Advisor via call, email, and text. To opt-out, you can reply 'STOP' at any time or click the unsubscribe link in the emails. Message and data rates may apply.
We'll be in touch soon!
Our goal is to send your report over within 24-48 hours. In the meantime, hear from our past sellers about their experiences.
He made the process of easy!! Would highly recommend him and Stephanie.
Andy did a great job!! Even after the buying and selling was done, he still followed up with us. He made the process of easy!! Would highly recommend him and Stephanie.
Cash in hand above asking within 10 days!
Our home was on the market for 8 months with multiple failures to close and numerous frivolous and expensive repairs being made before we were introduced to Andy. Within 10 days after we selected Andy as our realtor we had closed with cash in hand above our asking price. Select Andy as your realtor as soon as possible because his enthusiasm, prompt actions, professionalism and expertise will likely yield a transaction experience that is as pleasant and profitable as possible.
Will work hard for his clients!
Andy did a great job for us in the sale of our house. We had relocated out-of-state and needed to just 'unload' our house. Andy was able to find us a buyer and close the sale. He is a great agent who will work hard for his clients. If you need a realtor, I can't recommend Andy enough.
Ready to Take the Next Step?
We want you to feel confident about your next steps as a homebuyer.
Click Here