Why Right Now May Be the Time to Sell Your House
The housing market made an incredible recovery in 2020 and is now positioned for an even stronger year in 2021. Record-low mortgage interest rates are a driving factor in this continued momentum, with average rates hovering at historic all-time lows.
According to the latest Realtors Confidence Index Survey from the National Association of Realtors (NAR), buyer demand across the country is incredibly strong. That's not the case, however, on the supply side. Seller traffic is simply not keeping up. Here's a breakdown by state: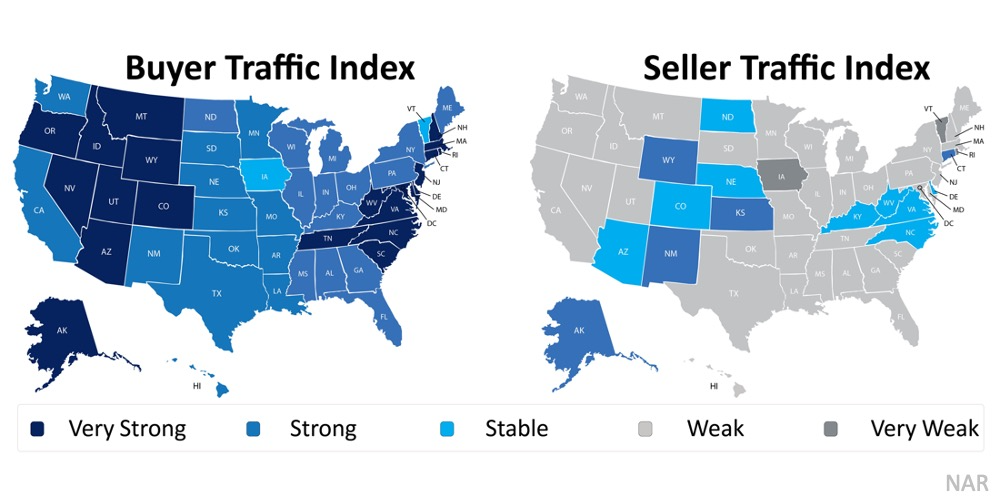 As the maps show, buyer traffic is high, but seller traffic is low. With so few homes for sale right now, record-low inventory is creating a mismatch between supply and demand.
NAR also just reported that the actual number of homes currently for sale stands at 1.28 million, down 22% from one year ago (1.64 million). Additionally, inventory is at an all-time low with 2.3 months supply available at the current sales pace. In a normal market, that number would be 6.0 months of inventory – significantly higher than it is today.
What does this mean for buyers and sellers?
Buyers need to remain patient in the search process. At the same time, they must be ready to act immediately once they find the right home since bidding wars are more common when so few houses are available for sale.
Sellers may not want to wait until spring to put their houses on the market, though. With such high buyer demand and such a low supply, now is the perfect time to sell a house on optimal terms.
Bottom Line
The real estate market is entering the year like a lion. There's no indication it will lose that roar, assuming inventory continues to come to market.
Get your home's accurate value.
Instead of a robot and an algorithm, we use our experience and up-to-date MLS data*
We'll be in touch soon!
Our goal is to send your report over within 24-48 hours. In the meantime, hear from our past sellers about their experiences.
Great People Don't Work Alone
Andy sold it quickly after it sat with another agent!
Our home had been on the market for 4 months with a previous agent. My husband found Andy on a real estate group. Andy was very knowledgeable in my area. He suggested making a few minor updates and listed our house for $30k more than it was previously listed for. It took Andy about 2 weeks after listing it to get 2 offers on my house. We finally closed on our house after an offer of only $5K off of ask.
Verified by RateMyAgent