Home Values Projected to Keep Rising
As we enter the final months of 2020 and continue to work through the challenges this year has brought, some of us wonder what impact continued economic uncertainty could have on home prices. Looking at the big picture, the rules of supply and demand will give us the clearest idea of what is to come.
Due to the undersupply of homes on the market today, there's upward pressure on prices. Consider simple economics: when there is high demand for an item and a low supply of it, consumers are willing to pay more for that item. That's what's happening in today's real estate market. The housing supply shortage is also resulting in bidding wars, which will also drive price points higher in the home sale process.
There's no evidence that buyer demand will wane. As a result, experts project price appreciation will continue over the next twelve months. Here's a graph of the major forecasts released in the last 60 days: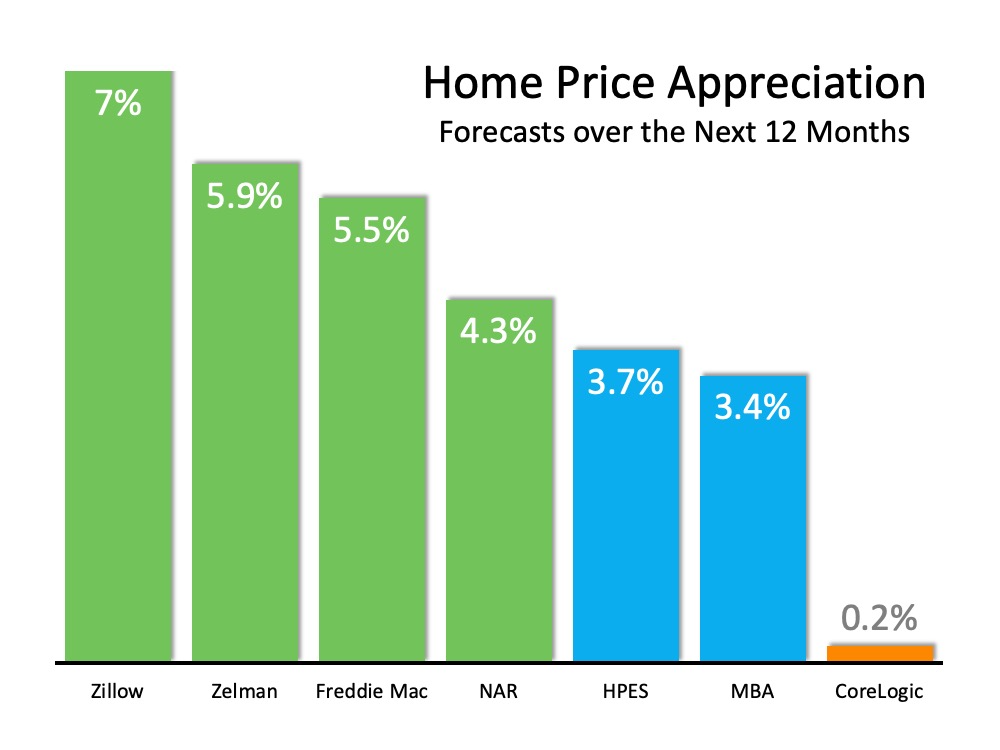 I hear many foreclosures might be coming to the market soon. Won't that drive prices down?
Some are concerned that homeowners who entered a mortgage forbearance plan might face foreclosure once their plan ends. However, when you analyze the data on those in forbearance, it's clear the actual level of risk is quite low.
Ivy Zelman, CEO of Zelman & Associates and a highly-regarded expert in housing and housing-related industries, was very firm in a podcast last week:
"The likelihood of us having a foreclosure crisis again is about zero percent."
With demand high, supply low, and little risk of a foreclosure crisis, home prices will continue to appreciate.
Bottom Line
Originally, many thought home prices would depreciate in 2020 due to the economic slowdown from the coronavirus. Instead, prices appreciated substantially. Over the next year, we will likely see home values rise even higher given the continued lack of inventory of homes for sale.
Get your home's accurate value.
Instead of a robot and an algorithm, we use our experience and up-to-date MLS data*
I agree to be contacted by Real Estate Advisor via call, email, and text. To opt-out, you can reply 'STOP' at any time or click the unsubscribe link in the emails. Message and data rates may apply.
We'll be in touch soon!
Our goal is to send your report over within 24-48 hours. In the meantime, hear from our past sellers about their experiences.
Andy sold it quickly after it sat with another agent!
Our home had been on the market for 4 months with a previous agent. My husband found Andy on a real estate group. Andy was very knowledgeable in my area. He suggested making a few minor updates and listed our house for $30k more than it was previously listed for. It took Andy about 2 weeks after listing it to get 2 offers on my house. We finally closed on our house after an offer of only $5K off of ask.
Verified by RateMyAgent